The ERP core of your company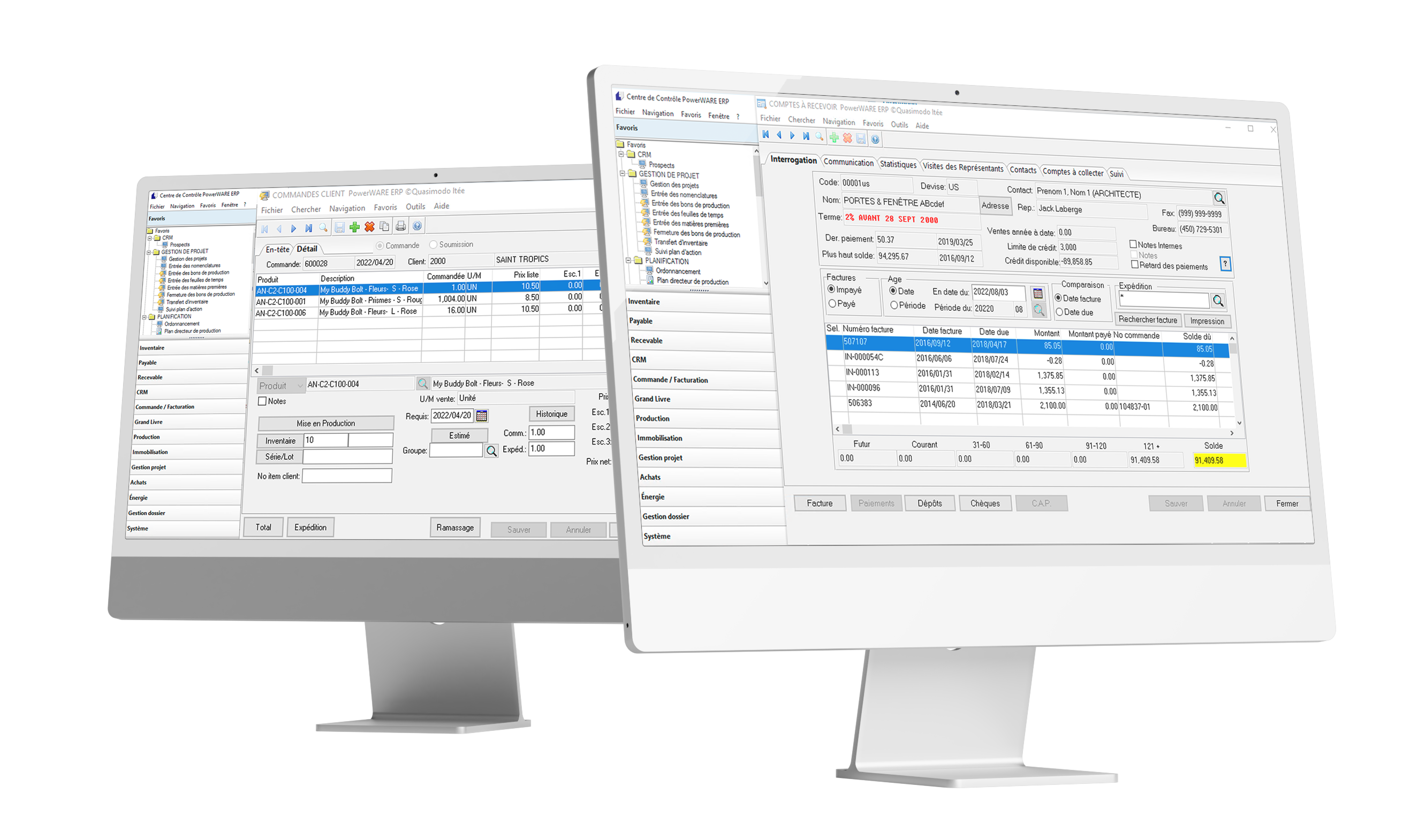 Finance
Fully integrated accounting system, bank reconciliation, consolidated reports, multicompany analysis, cash-flow reports, online payments, integrated credit card processing.
Supply chain
Streamlined quotation process, order tracking, inventory monitoring, order control, shipping module, real-time order picking, shipping, packaging & skid labels.
Manufacturing
Multi location & warehouse capable, Real-time data capture for production time and material, Quality Control Variables, multi-level Bill of Material, real-time processing of production inputs and outputs, a dynamic MRP
Project
Documents and transactions management, flexible project types, activities and follow-up management, quotations processing, efficient cost management system.
As publisher and integrator of our own ERP software, we offer a complete package of services from the analysis of your requirements to the implementation, training and support of our ERP solution for your business.
As a software developer, we must create solutions that fit the needs of the industries we serve. With over 50 years of experience, we have helped hundreds of Canadian companies with their IT challenges.
With our extensive knowledge base, we are able to provide our expertise to different business environments via efficient ERP solutions and consulting services.
As the developer of the Powerware Suite of products we can also offer customization of existing or new features as required to meet very specific needs of your business.
Switch from administrative role to proactive manager. Get a full overview of your operations and get quick effective results.
Integrated accounting
For all your advanced needs such as multi-company, multi-currency management, etc.
Accurate financial situation
From periodic financial statements to cash flow information, you can rely on a multitude of different financial reports.
Reduce order to cash flow
Optimize administrative work with automation systems for sending account balances, bank reconciliation and online payments.
Securing transactions
The Quasimodo ERP has an internal audit and rights management system to log and track financial operations.
All the tools needed to bring your products to market efficiently.
Purchases/sales
Take advantage of advanced management of the submission, order taking and invoicing processes.
Global view
Sales documents, inventories, stocks. You share information in all departments of your company, in real time.
Advanced Shipping Management
Powerware offers different tools for shipping and warehouse managements. You can also get our Warehouse Management System (WMS) dedicated to more complex environments (CheckWMS Page for more information).
Referencing and locations
Powerware integrates product labeling and barcode management. You will also be able to design your warehouses' locations.
Enjoy scalable features that allow you to do simple and effective things to very complex management for your manufacturing process. A very complete tool at the best cost for quick ROI.
Resource management
Includes multi-company, multi-site, multi-warehouse of human resources, raw materials and subcontracting. Coordinate everything easily.
Advanced production
Take advantage of multi-scenario scheduling, MRP scheduler, or work-in-progress and machine capacity reports.
Technical documentation
The system incorporates technical drawings (CAD/Solidworks) and any other complementary documentation so that you can use them in the manufacturing process.
Quality Control
Improve quality monitoring with our quality control system for manufacturing.
Manage your projects in Powerware ERP in order to improve planification and cost management.
All transactions
Gather all transactions related to the project (orders, invoices, purchases, production cost) as well as all documents.
Flexible projects
Our project feature is flexible and customizable to fit your needs.
Action plans 
Manage your list of activities by project, to make timely and effective follow-ups, assign stakeholders or resources, etc.
Advanced quotation tool
Estimate each part or required components. Integrate labor pricing, subcontracting, overhead, and parts. Cost tracking supervision.
Our ERP is made to be upscalable and integratable with the rest of your system.
Webservices, API & EDI
Integration with bank systems, machines or websites via standard protocols (EDI, API or webservices).
WMS
Our Warehouse Management System is natively connected to Powerware ERP.

Delivery system
Quasimodo has developed a mobile app that allows you to dispatch and organize routes for your trucks.
CRM
The CRM integrates the information from your ERP. You can share data with your representatives and customers and orders they place via the CRM are instantly available in the ERP.